Poker is the game of minds, where only the great minds are able to achieve anything. And do you know what comes with a bright gambling mind? Great sense of gambling humor! With high tension of poker tournaments, where one should think every bet and every step ahead, and keep oneself prepared for anything, only a good joke can make you relax a little.
The poker tournaments all around the world, as well as small tables in dusty basements, had seen so many legendary stories that they won't fit even in a thick book. Some of these stories were forgotten, but some became jokes that we laugh at now, dozens of years after the events they are based upon took place. Even more of them are just the funny situations that sound even better when you look at them from the poker perspective.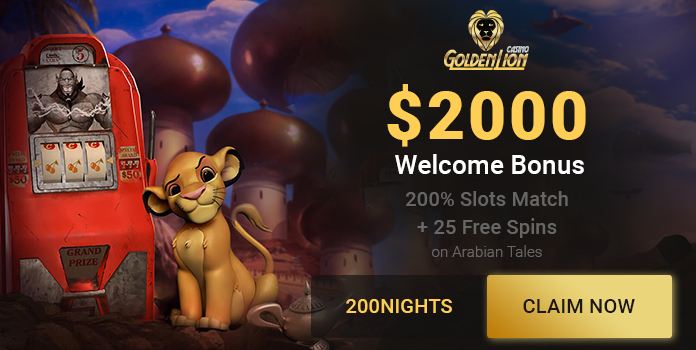 We've gathered the best poker jokes from all over the Internet, and your part is just to have a good time!
Poker is Like Sex …
Poker doesn't care for your gender, race or sexuality — If you're good at bluffing and strategizing, then it is the game for you. If you're a man who can't get lucky with the ladies, getting a good hand might help. Make sure to practice your hands by yourself first, you have to get good before you startle the others. Or you can always get rich by competing in Poker tournaments — It's about time Dan Bilzerian gets some competition.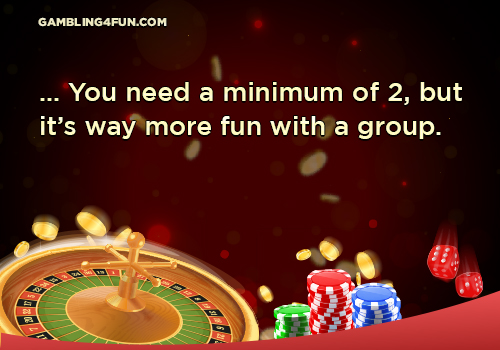 Many people would say three is too crowded — I say they've lost their minds. The hell with tradition and the old ways, spicing things up by letting other people join you and your partner is a game changer. So, why play Poker only with one friend when you can invite five others? Just imagine all the risk and the adrenaline.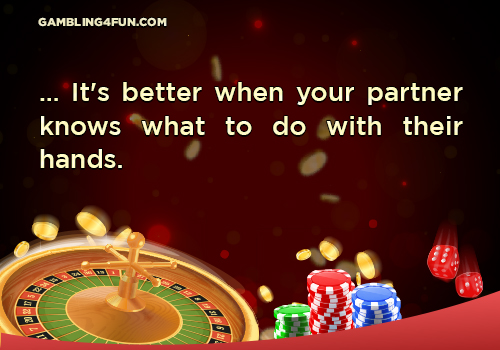 Poker is just like life, you always end up searching for that one partner who's good with hands. It's a skill, and it takes playing with a lot of people to hone it up. At one point, everyone will be bewildered with your hands and the way you use them. So seriously, choose your partner wisely ok?
People and their overconfidence. Everyone is a player, they all score every night, everyone has good hands that makes people lose their minds. But the truth is, nobody has any idea how the game works, yet they think they do. And once they go all in, the fun ends immediately — Is there too much pressure?
When Blondies Play Poker: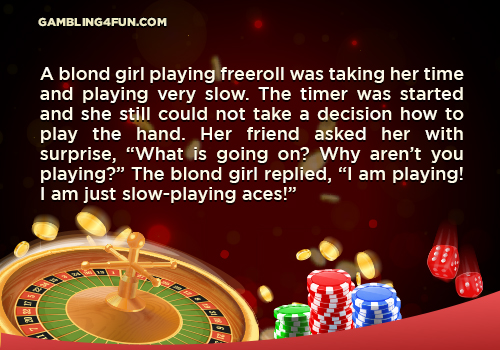 See, this is inaccurate because everybody knows that Santa exists. That's a fact. You can't just go around shattering people's childhood dreams like that.
So remember how blondes are the smartest of all women? Yeah, me neither.
Vampires Play Poker too:
Get it? Get it? Vampires? Stakes? C'mon, it's funny!
No, he couldn't. He would build a wall all around it and threaten to kick out half the people.
Do You Have a Poker Addition?
Two kids? In this economy? Maybe it's time to hold.
Laughing Out Loud.
What Might Happen when You Win WSOP:
'Hi Mary, this is John's girlfriend number 5. He told me to let you know he's too busy to respond to your message right now. Please, try later.'
Top Five Reasons…You Are Delusional about Poker:
Reason 1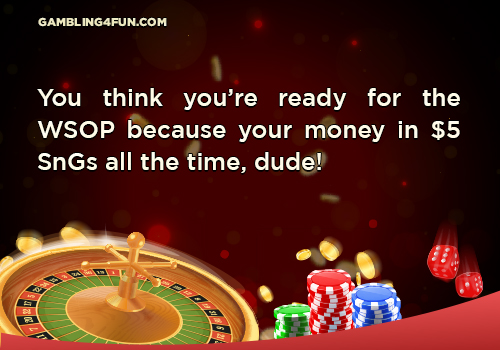 Ouch! I'm a grown adult, and if I say $5 is enough to enter the WSOP then it is! And that's the end of it!
Reason 2
Wait, your sunglasses have the eyes and all? You do know his sunglasses have dragon eyes on them right? Are you trying to tell me you found a beast stronger than that? Omg.
Reason 3
Please don't tell me you've learned all your card skills from Rounders? There's a lot more to Poker than what's in that movie.
Reason 4
Because you've seen Rounders 10 times? Read all those books for the love of God, Poker is a shark's game — They'll cut you into pieces if you're not good enough!
Reason 5
Do you really want to be that guy? Because if you do that's fine, I'm not judging. Still, don't be that guy.
Poker 'Don'ts':
They want you to get naked, that's the whole point! Maybe catch up with those books about Poker you wanted to read? — Or you'll be joining the people who claim we should all be naked because Adam and Eve were.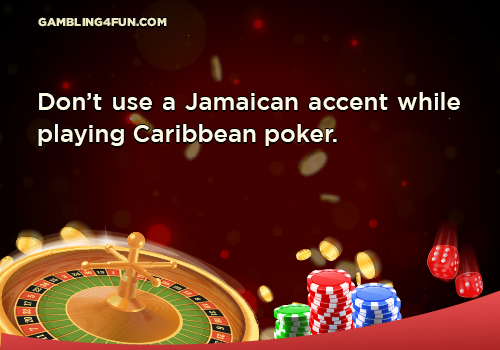 The only people who can speak with a Jamaican accent are the Jamaicans. So if you come from the suburbs of Boston, and your friend who is also from the suburbs of Boston told you that your Jamaican impersonation is oh so good, don't trust him. It's not.
Does this mean you get flooded with money too?